Welcome to Email Me Form FAQ. Here you can easily find the answers to the most frequently asked questions. Please choose a section below and click on a question. If you can't find your answers here, please Contact Us
General Questions
1. Why is your service free?
2. How do I get the information that is submitted with the forms?
3. How can I change the email address where the form submittal is sent to?
4. Do I need to leave the link to EmailMeForm.com on my site?
5. Can I use the forms to receive sensitive data like credit card details?
6. Do you store a copy of form submittals in a database?
7. Can I modify the form's look outside of your site?
8. Can I use the same account for different websites?
9. How does Email Me Form stop spam?
10. My submissions are marked as SPAM but they are not

Q. Why is your service free?
A. Our service is completely free, however in order to make money to pay for hosting costs and server maintenance we also offer a "Plus Plan" paid membership, that costs US $9.95 per month and offers several additional benefits, such as more webforms, and advanced power features.
Q. How do I get the information that is submitted with the forms?
A. Every time someone submits one of your forms, our server sends you an email with the information submitted. The submissions are also viewable in the Data Manager.
Q. How can I change the email address where the form submittal is sent to?
A. After you login into your account, you can click on the Notifications button underneath the selected form in the Form Manager. You will be able to modify your email settings in the Notifications window.
Q. Do I need to leave the link to EmailMeForm.com on my site?
A. With our Plus Plan, links back to EmailMeForm are not required. Our Free Plan does require that our small attribution link at the bottom of the form be retained. Free Plan users that remove this link may not be eligible to receive any support.
Q. Can I use the forms to receive sensitive data like credit card details?
A. You can create order forms using our service, but we do NOT recommend collecting sensitive data like credit card numbers. Information submitted is not encrypted unless the SSL, a Plus Plan option, is enabled. Using the forms for such purposes can be a security risk and are not Payment Card Industry compliant. Any accounts requesting this kind of information will be immediately suspended.
Q. Do you store a copy of form submittals in a database?
A. Yes, all submissions are stored on the database. This is very useful for cases if you are experiencing problems with your recipient email account(s).
Q. Can I modify the form's look outside of your site?
A. Yes, but you need to be careful and not change any important information like the name of the fields, the form, or buttons. Consultation fees may apply if technical support is required for heavily customized forms.
Q. Can I use the same account for different websites?
A. Yes, your account allows creation of forms to use on multiple domains. However, you may not have more than one account. We reserve the right to disable accounts that abuse this policy. Please upgrade to the Plus Plan if you need more than five forms.
Q. How does Email Me Form stop spam?
A. Email Me Form helps fight spam in several ways. First let us mention that Spam is of two types, manual and automated.
The manual Spam is made by people hired in low labor cost countries that are manually visiting websites, and contact the webmaster by filling in the contact webform. There is no way to stop them, because they are humans and they will submit the form with their unsolicited information just like any other web visitor would do.
And there is the automated Spam, made by people who create software tools that try to submit their junk information to many sites, without a human actually see those websites.
Email Me Form help stopping 100% of the automated SPAM by several means:
a) Captcha image verification. Captcha is a method of verifying whether the visitor is human or not. It is very easy for humans to type in a text from an image, while it is hard for software to do it.
b) Specialize key-word blocking. Plus Plan users can request specific keywords to be blocked to protect their inbox.
Q. My submissions are marked as SPAM but they are not
A. This can happen when the form owner specifies that the Name and Email of the form visitor should be retrieved from fields in the form. This setting can be modified at the Notifications Window in the Form Manager.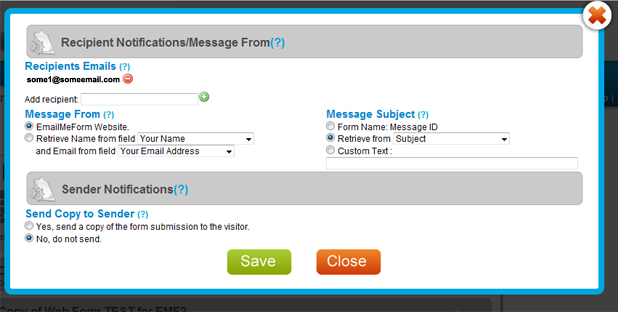 When you have for example a field named 'Subject', a field named 'Visitor Name' and a field named 'Visitor email address', you might want to have EmailMeForm put into the subject of email whatever is in the 'Subject' field, into the 'From:' whatever is in the 'Visitor Name' and 'Visitor address' fields.
These fields should only contain one line of text, and when they contain more than one line, they trigger a spam filter called an 'Injection Attack'.
An injection attack is when someone places a '/n' ( new line ) into a field that goes into the header of email, followed by 'bcc:' and a lot of email addresses. This way, the email will go to you but it will also go to that list of email addresses.
The fix to this issue, is for you to edit your form notification settings by selecting 'EmailMeForm Website' for the 'Message From' option.
If you have any problems, which are not answered above, please contact us for support.