Collect credit card information with confidence
Choose EmailMeForm, a PCI-certified form builder. The credit card forms that you build with us will be shielded by Vault, a robust solution that lets you collect and store credit card data securely. Have peace of mind, knowing that your business and your clients are protected at all times.
Create credit card authorization forms easily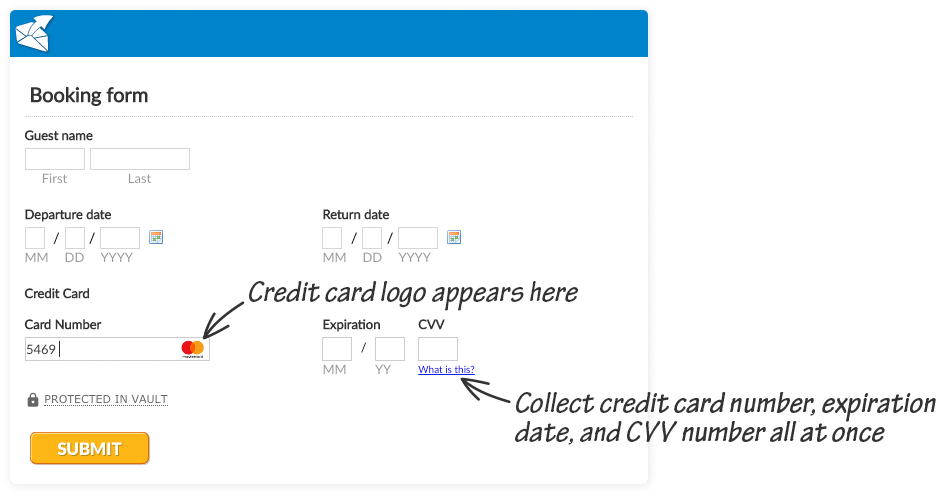 Build a PCI-compliant form in a few minutes. Just add the special credit card field to your form. It already contains a credit card number, expiration date, and CVV number inputs.
Win your clients' trust

Our special credit card field comes with a Vault security seal, easing your client to confidently share their personal data with you. It assures form users that the collected data will be encrypted and stored in compliance with the PCI standard.
Only collect verified credit card numbers

An error message will be flagged when the number your form users are about to submit is invalid. Avoid invalid transactions or charging the wrong accounts. Save yourself the time and hassle of contacting users to confirm their credit card numbers.
Boost account security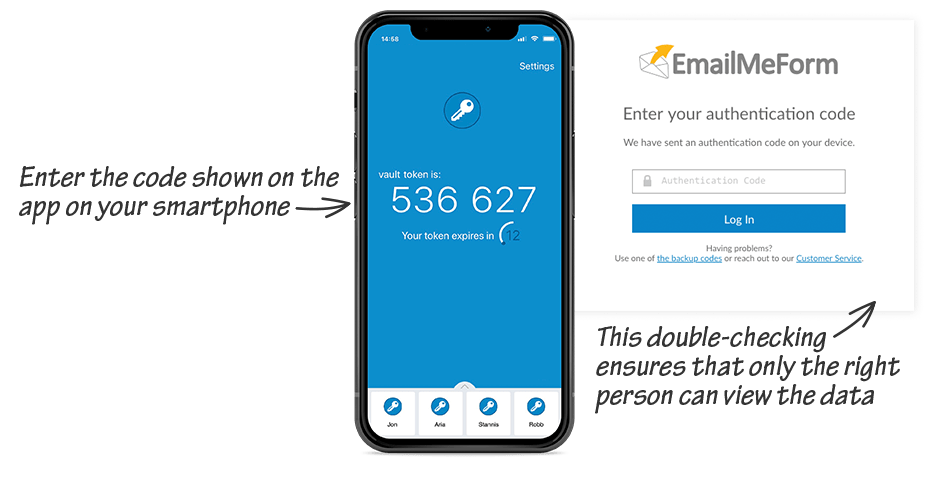 Once Vault is enabled in your account, you will enjoy an added layer of protection via Multi-Factor Authorization (MFA). This ensures that nobody but you (and your appointed team members) can access the credit card data.
Obtain digital signatures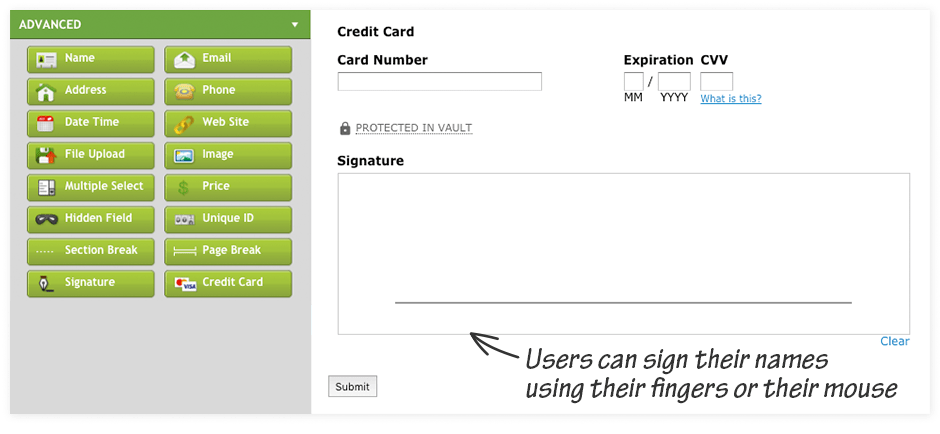 Need to collect your clients' signatures to declare their credit card authorization? Use the digital signature field in tandem with the credit card field. Your users can e-sign their name on the bottom of the form.
Store credit card in a safe place

Vault lets you store credit card data securely in our PCI-certified cloud storage, Vault. Retrieve the credit card number only when you need to use it. Delete it when you no longer do.
How Vault Works
Collecting credit card information using online forms in a PCI-compliant way used to be impossible. Regular encryption that comes with "plain number fields" doesn't make the collection secure. In fact, it not only puts your clients' data at risk for online theft, it also places your business reputation on the line.
With EmailMeForm's Vault Solution, you can safely collect and store all credit card information from your clients – with total peace of mind. Our PCI-certified forms and systems make sure that nobody but you can view and access these highly sensitive data.
Vault FAQs
What is Vault again?
Vault is a powerful security solution that you can use to collect credit cards under the highest PCI security standard.
What is PCI security standard?
The Payment Card Industry Data Security Standard or simply PCI is a set of strict rules and requirements for bodies that collect personal data and process payments online. These rules dictate how these sensitive data should be collected, stored, and transmitted on the Internet.
So if you're gathering credit card information from your clients and intend to charge their credit cards on their behalf, you will need to comply with PCI.
Is EmailMeForm really PCI-certified?
Yes, EmailMeForm is PCI-certified. We have worked hard and sought the certification this year. We have been granted the Level 2 PCI Certification as of October 2018. This means that we are a form builder that has passed stringent requirements by the recognized PCI body worldwide. We have the systems, processes, and tools that let you gather and store credit card information securely online.
How to join Vault?
To join our exclusive Vault Program, just fill-up this form right here or talk to our customer support to enable the feature in your account.
How much does it cost?
As of this writing, our Vault Beta Program is still in Beta. You can use and access all Vault features completely for free. After launching, we will be charging an additional monthly cost for the Vault, but if you have been an ACTIVE Vault Beta user, you will be granted discounted loyalty prices. ;)
Where are the credit card information stored?
The credit card information that you have collected will be stored in a secure cloud that is separate from our current database. The data will remain there until you will delete it.
I'm already an EmailMeForm user. How can I enable Vault?
Just send us a message here. We'll enable it on your account after a few days.
I collect credit card info using some other field. Do I need to be worried?
Yes. We strongly suggest that you do not use the number field or any other field other than our special Vault-protected credit card field. Using such, even if they are masked and/or encrypted, will not ensure that your data is completely safe from breaches. This puts your clients – and your business – at risk.
As a PCI-certified form builder, we will not tolerate this practice. We will need to take precautionary measures to adhere to PCI policies 100%.
What should I do if I have non-Vault fields that collect credit card information?
You should switch to the Vault field as soon as possible. You can refer to this guide here or ask our CustomWork specialists to do it for you. You can also talk to our Customer Support team if you have questions or concerns.
Can someone from EmailMeForm help me change current forms to be Vault forms?
Yes, of course. We have our CustomWork specialists who can do the migration for you.
What comes with a Vault account?
With Vault accounts, we're sure that all the doors of potential attacks are tightly locked. Here are the security perks that come with it:
Strong Password. Before you enter your Vault-enabled account, you will be asked to choose a stronger password.
Multi-Factor Authentication (MFA). Second step is setting up MFA which requires you to use special codes when logging into your account. You will find step-by-step instructions on how to activate MFA on your next login.
Credit Card Field. You will find the new credit card field in your EmailMeForm form builder. Just drag it to your form and test the submission.
Secure Vault Storage. Once you start receiving credit card information from your forms, they will be stored in your secure Vault. You can retrieve it only from your account. The data will not be sent via submission notification emails.
I want to use Vault, but don't want to enable MFA on my account.
Having MFA as a feature is part of the PCI requirement. MFA will always be part of the sign in process for Vault-enabled accounts.
Do you have a Vault question that we haven't covered here? You can ask us here.