EMF Story: Rebuilding Our Form Manager with the Help of Feedback Forms
Hello! We are EmailMeForm.
Our tool lets you build online forms and surveys that can help you collect feedback and improve your business. So, we used our own feedback forms in reshaping our product the way our users wanted it. Here's what happened.
Sign up without Reading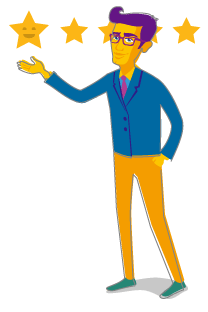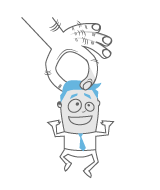 We picked out our most active users.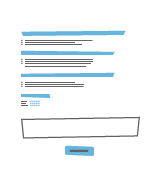 We sent them a feedback form.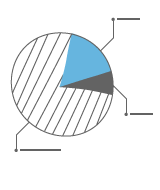 We evaluated their replies.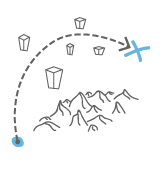 Then, we developed a plan.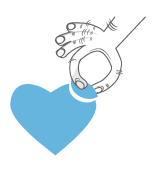 Finally, we built a new UI, confident of its success.
We went from this to this
Look and Compare!
Why did we do that?
Here's a short backstory.
We noticed a few similarities on our users' feedback on our Form Manager — they wished there's a feature to do this, they hoped for an easier way to search for their forms — they gave us hints on what does and what doesn't work well for them.
We listened, followed the clues, and finally decided to make their wishes come true — a Form Manager Revamp was on the way!
But, before we embarked on such a long and painstaking journey, we had to know what exactly the pain points were. That's where our powerful feedback form came in handy.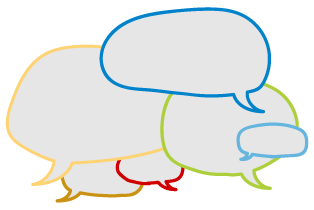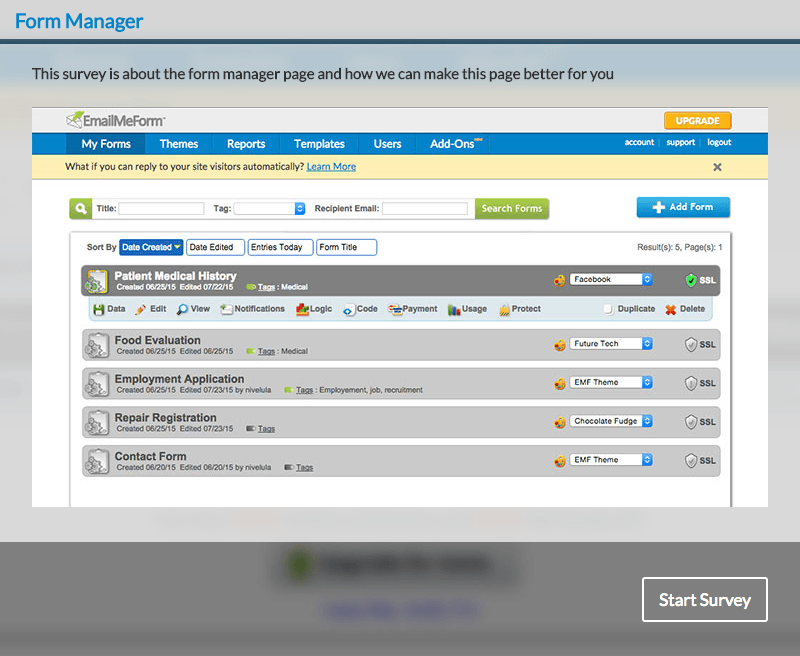 Meet our marketing weapon
The EMF Form Manager Feedback Form
It's an 8-page form with simple and straightforward questions — nothing complex.
Take a closer look
Here's how we made our feedback form easy to answer.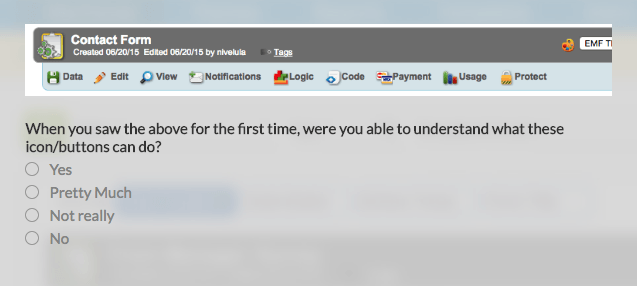 Eliminate the guesswork
Asking feedback is a favor that you ask from your clients. So, we made the process as easy as possible. We provided options, wherein possible, using the pre-loaded survey type options.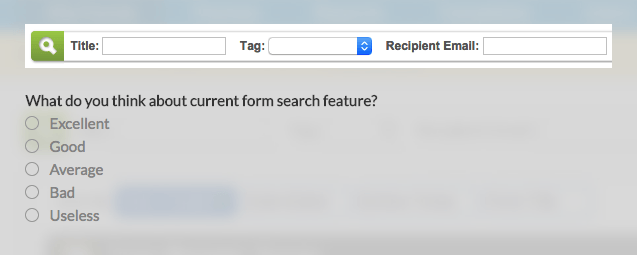 Encourage quantifiable data
We opted for the scale rating to quantify the results objectively and reduce bias. You can also choose from Likert Scales, Star Rating, and more — they're all ready to use in your forms.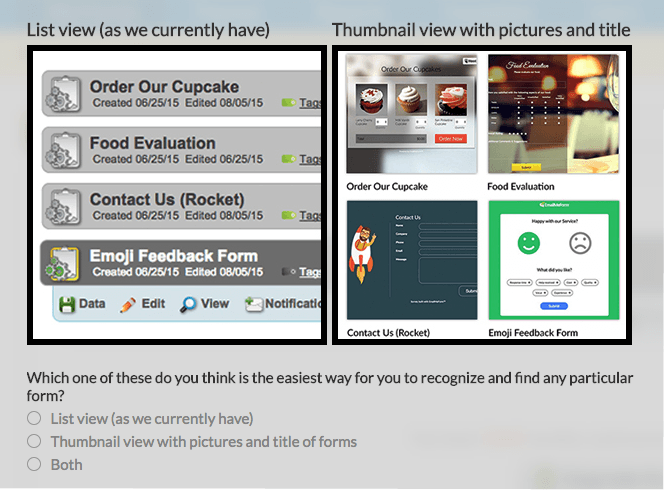 Use pictures to illustrate ideas
The less text to read, the better. We added pictures to help explain our ideas. Our forms are customizable; you can include a picture, change the colors, and more.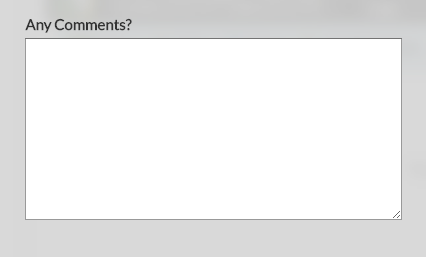 Give your users freedom with the comment box
There are items which needed extra explanations to support a 'Yes' or 'No' answer. We added a comment box on these items. It's a good way to gain more insights from your users.

Initiate more interaction
We wanted to personally reach out to individual users, so we added a text box where they can leave their contact details. We made it optional to give them the freedom to pass.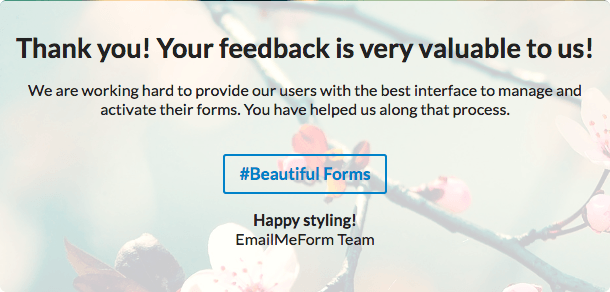 Leverage the 'Thank You' page
Lastly, we leveraged the 'Thank You' Page. We included a call-to-action button which leads to our Beautiful Forms to showcase the forms that our builder can make.
Now, the thrilling part
Facing what your clients have to say
Our tool lets you instantly generate a report or export the data for further analysis. Your data, ready for your review in minutes!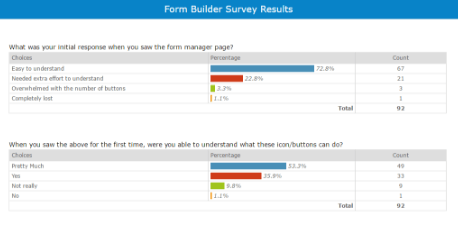 It's time to huddle and work as a team. The data told us what to add, which to change, and what to keep. When we had the alpha prototype ready, our design head recorded a video presentation to share the progress with our testers. We were overwhelmed with their positive reactions!
I want the upgrade ASAP!!!! LOVE IT!
Looks great, being organized always helps in being more efficient. Can't wait until it's rolled out.
Like the new look and love the new folder features. Can't wait to use the new design. Thanks for all your work.
It looks attractive!
I hope that the way to use the program will be as easy as before.
This is going to be so much fun to explore more and use!
It's looking good. Changes seem easy enough to use. Hopefully It'll be easy to work the new features after a bit of playing around?
Previous
Next
Ahh, it went great
So, how did we know exactly what to do?
Simple. We asked our users what they want. And it happens that we know how to ask them effectively — through well-structured feedback forms.
So, the next time you want to create a feedback form that gets you the answers that you need, follow these pro tips.
Pro tips in Creating an Effective Feedback Form
Use pages to separate logical sections nicely.
Add a progress bar if you have lots of pages.
Definitely use the image field, especially if you need to express a complicated idea.
Use side-by-side fields to compare options.
Always leave a text box available for comments. People have ideas you haven't considered before.
Don't ask users to enumerate things. Make a list and let them check the boxes.
Initiate more interaction by asking for their emails and one-on-one meetengs.
Always leverage the 'thank you' page to lead users into learning more.
Don't edit your form mid-survey. It will mess with the data.
Choose tools that allow quick set ups and unlimited feedback.
Ask specific questions to get specific answers.
Keep testing and retesting during the entire process – it's not a one-time thing.
Create good-looking forms with nice images and sleek theme to attract users. If you need help on this one, our CustomWorks Team can help you.
Looking for Feedback Form Samples?
Start collecting insightful data to grow your business
Create your own Feedback Form for FREE